Our association is proud to fund five college scholarships, four in the amount of $500.00 each. These scholarships are funded on a yearly basis and are available to students pursuing a career in the natural resource field.
Three of the scholarships are designated for specific institutions. The College of Environmental Science and Forestry at the State University of New York at Syracuse receives funding for a scholarship, as do Paul Smith's College of the Adirondacks, and Finger Lakes Community College in Canandaigua.
Students interested in one of the three scholarships designated for a particular institution should apply directly with that college. Each college administers the application and award process of their scholarship. Our Association simply provides the funding, and does not participate in the process of awarding the scholarships.
The fourth scholarship offered by the Association in the amount of $250 annually, is the Jim Ponzio Scholarship. This scholarship will be awarded each year to a student attending the State University of New York at Cobleskill, and enrolled in a science or agricultural curriculum.
ECO Jim Ponzio spent his career working and living in the Cobleskill area. He was a friend to all and greatly respected by his fellow officers and the people he served.
Jim is pictured in the center of the photograph below, receiving the prestigious Shikar Safari Officer of the Year Award.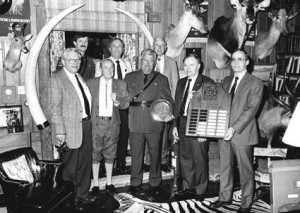 Students who qualify for the Jim Ponzio Scholarship should apply directly to SUNY Cobleskill.
The final scholarship offered is in memory of Lt. Jim Molinelli. This is designated for the son or daughter of an active Environmental Conservation Officer or Investigator attending college in New York State. The scholarship is awarded directly to the successful applicant, and may be used at any college within the State.
Jim Molinelli spent his entire career in Regions 2 and 3. He was a supervisor who was respected and admired by all those who worked with him and knew him. He is pictured below piloting the vessel  in the Hudson River.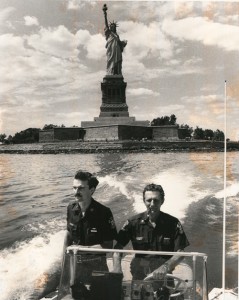 Applicants eligible for the Lt. Jim Molinelli Scholarship may apply directly through the New York Conservations Officers Association.