Each summer, our Association sponsors youngsters that want to attend the NYSDEC's Environmental Education Camps. There are four camps located across the state. Camp Colby on Lake Colby in the Adirondack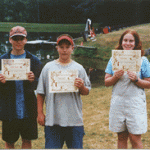 Mountains, is near the village of Saranac Lake. Camp Rushford, near Rushford Lake in western New York, is in the 4500 acre Hanging Bog Wildlife Area. Camp DeBruce is near the village of Livingston Manor in the Catskill Forest Preserve, and Pack Forest is on a small lake near Warrensburg in the Adirondack Park.
Each year , NYCOA will sponsor a child to each of the NYSDEC's Camps. Anyone may apply to have a child sponsored.  Applicants who are current members of NYCOA will have preference, and their applications will be drawn first. If there are vacant sponsorships remaining, after the members' applications are drawn, additional applications from the general public will be drawn until all sponsorships are filled.
The drawing for sponsorships will take place on February 14th each year. The DEC has a new online registration process in place. If you wish to apply to have a child sponsored by our organization, email our secretary, Liza Bobseine at ljbobsei@gw.dec.state.ny.us. Provide Liza with the name of the child and their relationship to you.
The deadline for applications is January 20th. You will be notified by email whether your child has been selected for sponsorship. If selected, you will receive directions on how to complete the online registration on the DEC website for children being sponsored by an organization.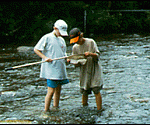 All the information you need regarding the camps can be found on the NYSDEC website at http://www.dec.ny.gov/education/29.html