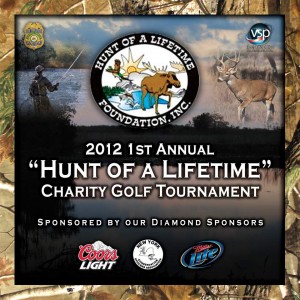 On July 9th, NYCOA held its first annual golf tournament to benefit the "Hunt of a Lifetime" program at the Bryncliff Resort and Conference Center in Varysburg, New York. The tournament was conceived and developed by NYCOA Vice President Bob Peinkofer and NYCOA Region 9 Representative Jim Hunt. Bob and Jim also served as Tournament Directors along with Don Damrath, NYCOA Region 1 Representative, and Don's brother David Damrath, Tops Markets Executive and major sponsor of the event.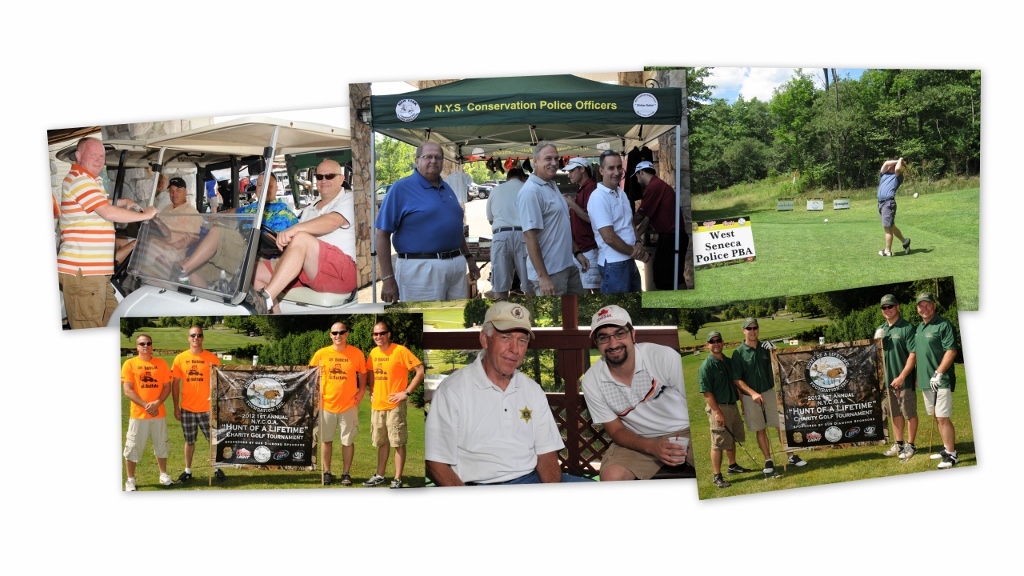 The tournament began at ten a.m. with 140 registered golfers taking to the links. The day was bright a sunny and all the participants had a very enjoyable day. While on the course, the golfers had an extra opportunity to test their putting skills at a special venue. Those who were successful had their names entered into a drawing for a brand new kayak.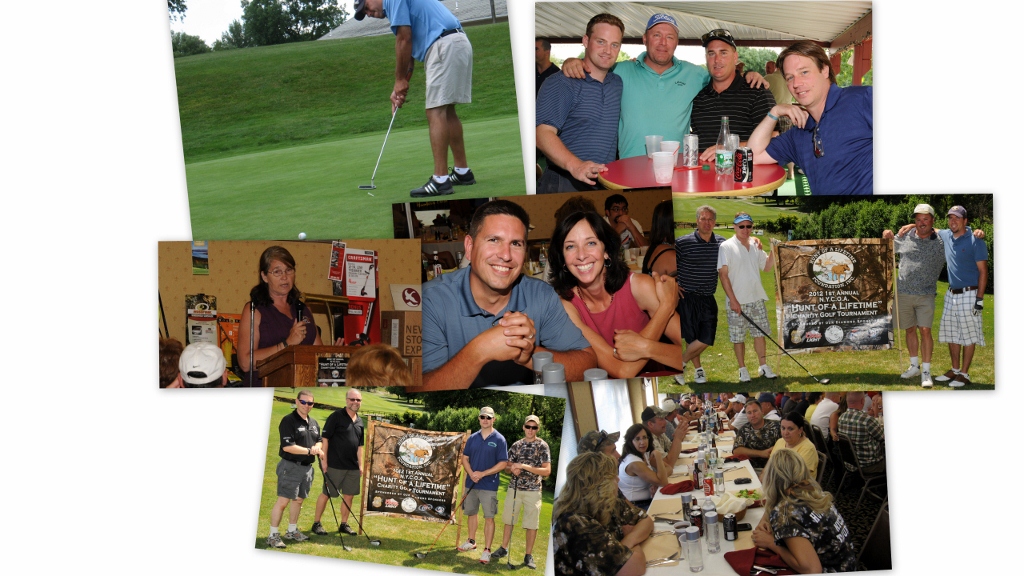 When the tournament was completed, the golfers retired to the clubhouse for a couple of hours of relaxation at the open bar before the banquet and auction. The banquet and auction were the highlight of the event with over 200 people in attendance. Through the generosity of our donors and sponsors the auction contained a tremendous variety of high quality and valuable items. Congratulations to all the successful bidders for those items and thank you for your participation and generosity.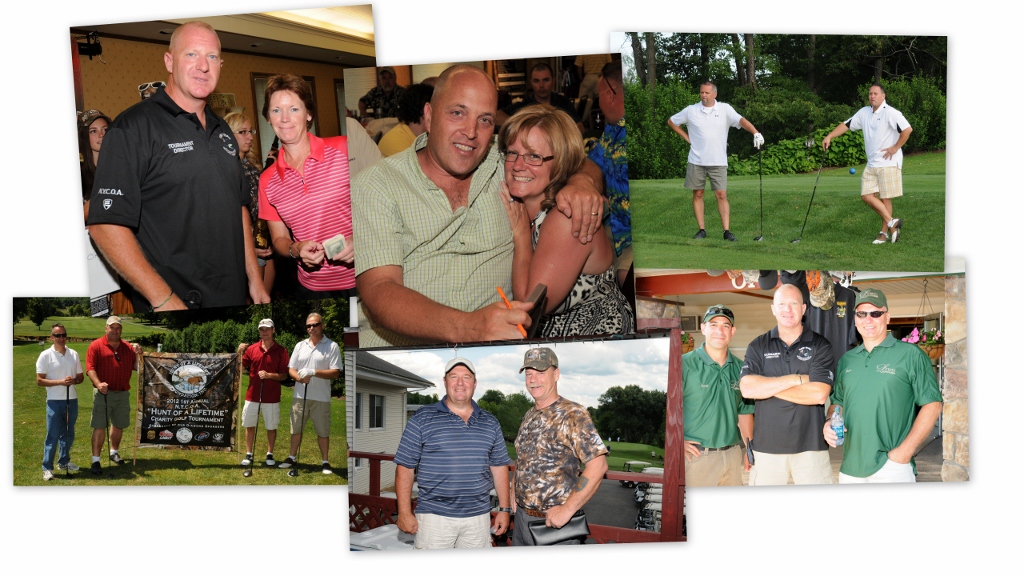 The "Hunt of a Lifetime" Program was founded by Tina Pattison and is dedicated to assisting children with life threatening illnesses to realize their dreams of participating in the outdoor pursuits that they love. The New York Conservation Officers Association is very pleased and proud to have had the opportunity to conduct this tournament in order to benefit this very worthy cause. As a result of the generosity of all those who participated and all of the sponsors and donors, we will be presenting the "Hunt of a Lifetime" Program with a check for $18000.00. To say that our First Annual "Hunt of a Lifetime" Charity Golf Tournament was a success is somewhat of an understatement. We hope that you will visit the "Hunt of a Lifetime" website to become familiar with their program and to support their cause.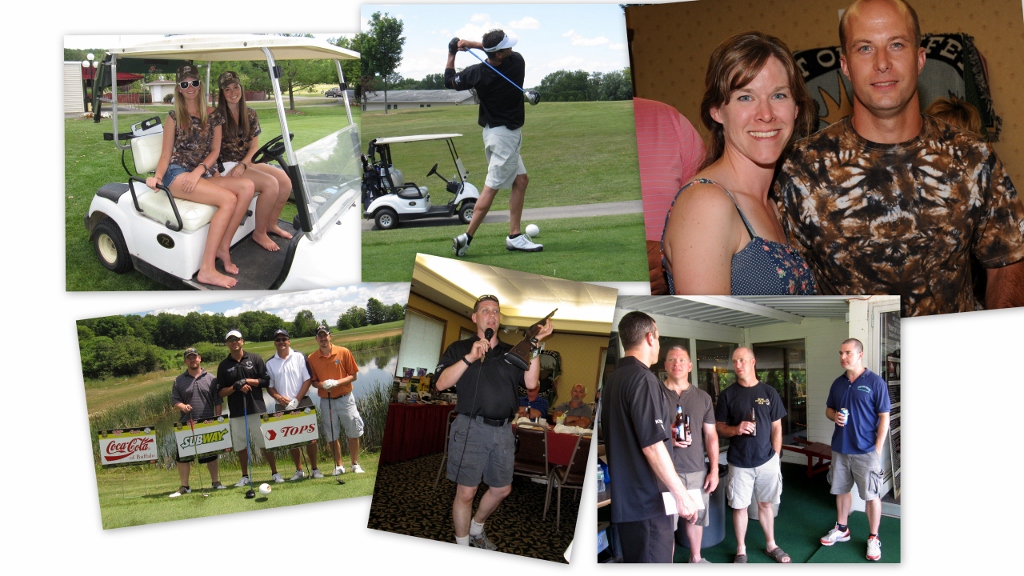 Thanks again to all those who participated in the tournament and to everyone who attended the banquet and auction. Your attendance and generosity are what made this event as successful as it was. We also want to especially thank our many sponsors who recognized the importance of this event and provided the funding and supplies that made it possible for us to succeed. Our sincerest gratitude to our biggest sponsor the Miller Coors Brewing Company, brewers of some of the most popular beers available, such as Miller beer, Coors, Molson Canadian, Blue Moon, Fosters, Hamms and many others. The following is a list of our major sponsors. We greatly appreciate their support and we hope that you will support them with your patronage:
Coca Cola of Buffalo, Jeff Drilling, Nestle Water, Polar Beverage, Buffalo Orthopedic Group LLC, Anchor Marine, Lewis Homes, Merrill Lynch, NYS Troopers PBA, Bobcat of Buffalo, Wegmans Markets, Sonwil Distribution, Gander Mountain, Remington Arms, Eastern Hills Printing, United Uniform, Delacy Ford, VSP Marketing Graphic Group, Tops Markets, Uncle Bob's Self Storage, Quaker Boy Game Calls, Knight & Hale, Zawadzki Jewelers, Bank of America Foundation, Savage Arms, Paula Rose Photography, Good Expectations PT, OT, ST PLLC, Rico's Lawn Care Service Inc. – DBA Bison Blue Grass, Pepsi Corp., NYSCOPBA – NYS Correction Officers Union, West Seneca Police PBA, Swinco Pools of Lockport, K & K Guns, East Aurora Wireless, Red Barn Gun Shop, 84 Lumber, Luxury Limos, Jerry and Andrea Kinney, Subway of Elma, Tractor Supply Company, Hans Moeller Jewelers of Attica, Tim Hortons of Elma, Bison City Rod and Gun Club, Hunters Landing of Batavia, EMS – Ferolie, Cattaraugus County Association of Chiefs of Police, Hoy Funeral Home, State Farm Insurance, Bishop Disposal, The Street Family of Elma, The Jagusiak Family, and Ken White of Harvest Moon.