Keeping up with what is going on across New York State, the Nation and the World involving those in conservation law enforcement. (Updated 08/06/17)
Major Walter Heinrich is retiring
NYS DEC says farewell to Major Walter Heinrich as he retires after 36 years and 3 months of Service! Thank you for your service and have a happy and healthy retirement. Click Here for his retirement letter to the department.
NYS Environmental Conservation Officers participate in Ivory Crush @ Central Park
Below are a few press releases of the dozens of media outlets that were present for this event.  Great work to all those involved in the investigations and the event!
Man pleads not guilty to selling ivory at Utica antiques show
A Fayetteville man's booth during an annual antiques show this winter resulted in a felony charge following an investigation by the state Department of Environmental Conservation.
UTICA
A Fayetteville man's booth during an annual antiques show this winter resulted in a felony charge following an investigation by the state Department of Environmental Conservation.
In Utica City Court on Wednesday, Edward Becker Jr, 68, pleaded not guilty to selling ivory without a permit in January during the annual Mohawk Valley Antiquefest that took place at Stanley Center for the Arts.
Becker's attorney Jeffrey Lottermoser Jr. did not return requests for comment.
In documents created by the state environmental conservation police, it's alleged that Becker offered 22 pieces of elephant ivory for sale during the event, at a cumulative value of $4,640. In state environmental law, any illegal commercialization of fish, shellfish, crustaceans and wildlife constitutes a class E felony if the value exceeds $1,500.
During an interview with an environmental conservation officer, Becker reportedly said he had "several items of carved ivory" and knew he needed a permit to sell them, but never applied for one.
"I had investigated a couple of times getting a permit and also becoming certified to appraise ivory for these very reasons," Becker reportedly said during a separate interview. "(I) never pursued either one of them. So that's what I did, I took them to the show, and lo and behold (explicative) happens. It's just a matter of … not taking the time to sit down and go through it, rather than just investigating it. I should have done it and I realize it."
The Asian elephant and African elephant have been listed as endangered in the Convention on International Trade in Endangered Species of Wild Fauna and Flora, a treaty which monitors and regulates international wildlife trade, since 1975 and 1976 respectively.
With additional safeguards offered by their listing as endangered species, it is illegal to sell or offer ivory, unless certain requirements are met in the case of certified antiques over 100 years old and other items.
Link to original article written by Micaela Parker on UticaOD.com.
Authorities: Colorado officers were briefly held hostage before suspect was fatally shot
DENVER –  A Colorado sheriff's deputy and a state wildlife officer were held hostage by a man and a woman before a struggle erupted and the man was fatally shot, authorities said.
Neither the deputy nor the wildlife officer was injured in the confrontation Monday near the small town of Dinosaur in northwestern Colorado, about 10 miles from the Utah border.
The woman was taken to a hospital for an undisclosed medical condition and then transferred to the Moffat County jail. The woman's condition wasn't directly related to the shooting, Sheriff KC Hume told the Craig Daily Press.
Moffat County Deputy Brent Shock and Colorado Parks and Wildlife District Wildlife Manager Nathan Martinez were checking on a suspicious vehicle parked off a highway Monday afternoon when they were briefly taken hostage by the man and woman, the district attorney's office said in a news release.
Authorities haven't said who fired at the man when the fight broke out. His name hasn't been released.
 Authorities identified the woman as Georgie Hand, 43. She had not been charged in the Monday incident, and jail officials said they did not know whether she had an attorney who could comment on her behalf.
Hand is wanted in Chaffee County on charges of identity theft, felony theft of at least $20,000, trespassing, criminal mischief and other crimes allegedly committed in January, court records show. Chaffee County authorities issued a warrant for her arrest on Feb. 11.
Hand is also wanted in Wasatch County, Utah, on charges of burglary, theft and forgery, according to court records there. Hand and another person were accused of using stolen checks and a stolen credit card to make thousands of dollars of purchases at Wal-Mart and elsewhere in December.
Shock and Martinez have been placed on administrative leave, a standard practice after an officer-involved shooting. The district attorney's critical incident response team was investigating.
It is common for the sheriff's department to jointly patrol the 4,800-square-mile county with officers from Parks and Wildlife and other agencies, authorities said.
Link to original article in Fox News.
Rodeo and Rhino Horns
How a former steer wrestler became one of America's biggest wildlife traffickers.
Sentencing Announced by US Justice Dept. in NY Illegal Landfill Case
Dominick Mazza and Cross Nicastro  and one Corporate defendant, Mazza and Sons, have been sentenced to a total of 120 months (10 years) in a federal prison and ordered to pay 1.5 million dollars in restitution. It is anticipated that three remaining defendants will be sentenced to similar fines and imprisonment at future dates.
NYSDEC Bureau of Environmental Conservation Investigations Lieutenant David Clarke led the investigation into the illegal disposal of solid waste that resulted in the trial and subsequent conviction of these and other defendants in the case. We congratulate Dave and the other investigators involved in this very significant investigation and prosecution.
View the Justice Department's press release for more details on the case.
Texas Game Wardens Seize Nearly $4 Million Worth of Marijuana on Lower Border
AUSTIN – Texas Parks and Wildlife Department game wardens have seized more than two tons of marijuana worth nearly $4 million.
"This is one of if not the largest drug seizure by Texas game wardens in the history of our agency," said TPWD Law Enforcement Director Craig Hunter. "Obviously, we are very proud of the wardens involved in this case. Beyond that, we are tremendously pleased to have played a part in preventing such a large cache of marijuana from reaching our streets,"
The drug seizure occurred about 7 p.m. on Wednesday in Starr County near the U.S.-Mexican border in South Texas. Retail value of the marijuana was estimated at $3,775,440.
"A game warden received information that marijuana was being stashed at a residence in the Salineno area. Game wardens then requested assistance from the U.S. Border Patrol," said TPWD Maj. Alan Teague.
When the warden and Border Patrol agents approached the residence, the federal officers saw three men running from the rear of the structure. The officers shouted for the men to stop, but they kept running. After a foot pursuit, two of the three men were apprehended.
While escorting the two individuals back to the residence, the officers observed a large pile of bundles which appeared to be packaged marijuana. A closer inspection along with a Border Patrol canine confirmed the bundles were in fact marijuana. Officers also discovered an underground bunker located near the pile of marijuana bundles which contained more marijuana.
A total of 409 bundles of marijuana weighing 4,719 pounds were recovered from the back yard area. It took six trucks to carry the marijuana to a federal storage facility.
"Texas game wardens routinely come across illegal drug smuggling operations, especially in rural areas and along the border region," said Chief of Special Operations Grahame Jones, "but this seizure was particularly significant."
The two suspects were released to the Border Patrol, along with the seized marijuana.
"We certainly appreciate the assistance of the Border Patrol in this case," said Lt. Col. Danny Shaw. "TPWD has a close working relationship with the Border Patrol and other law enforcement agencies along the border, and this is a perfect example of how that pays off for the citizens of Texas."

Poacher Donates $6000 to Washington Fish and Game Dept. to Ease Conscience.
From The Spokesman Review, Spokane, Washington:
Saying he's been burdened with guilt, a Montana man has mailed Washington wildlife officials $6,000 to compensate for deer he said he killed illegally – more than 40 years ago. The man contacted a Washington Fish and Wildlife Department office a few weeks ago and confessed to an officer that he had killed three whitetail does illegally between 1967 and 1970, officials said Wednesday. They identified the man only by his first name, Roy.
Capt. Richard Mann in Yakima told Roy that penalties for poaching antlerless deer were around $250 in the late 60s and range up to around $2,000 today. "But I told him the crimes are well past the statute of limitations and no charges could be filed," Mann said. The officer suggested he could sign up with the agency for volunteer jobs at a wildlife area or habitat project to soothe his conscience, but Roy said he lived in Montana.
Last week, Mann got a message from the department's Olympia headquarters that a $6,000 check had been delivered as a donation to the enforcement division. "I was amazed," Mann said. "It's not uncommon for me to hear from people who are sorry for a wildlife infraction, but usually it's because the judge stuck them with a big fine."
"This doesn't happen," said Mike Cenci, the agency's deputy chief of enforcement. "We do get donations, but if any were related to misdeeds or conscience, we're not aware of it."
Roy asked that the money be used for wildlife enforcement. In the letter with the check he wrote: "My conscience has not allowed me to put this sin to rest until now. I know that God has forgiven me and hope that WDFW will as well."
Man Sentenced to Two Years in Federal Prison for Threatening Tennessee Wildlife Officers
An Arkansas man will serve two years in federal prison for making threats against Tennessee Wildlife Resources Agency officers.
Conner Eldridge, U.S. attorney for the Western District of Arkansas, said James Mitchell Hicks, 33, of Fort Smith, Ark., was sentenced Monday to 24 months in prison and one year of supervised release.
Hicks was initially involved in a boating accident on Tims Ford Lake on July 31, 2010. The accident was investigated by two TWRA officers, and Hicks was charged with boating under the influence. Afterward, Hicks began making threatening telephone calls to the officers and subsequently to several others in TWRA offices. There seemed to be little rhyme or reason to which office or individual he called. Sources said that at one point Hicks threatened to "blow up" TWRA's Nashville headquarters. Because Hicks was making those calls from Arkansas, across state lines, the crime rose to a more serious federal level.
The indictment said Hicks made at least 52 harassing phone calls to Officer Tommy Wannyn. The indictment also listed threatening calls to:
—Bonny Warren, a caseworker in the office of Rep. Diana Black in Cookeville
—Danny Baggot, in TWRA's Region IV office in Morristown
—C.J. Jaynes, a wildlife enforcement supervisor from Polk County
—Lt. Mitchell Bailey, a law enforcement supervisor in TWRA's Region II office
—Dianna Layton, in TWRA's Region III office in Crossville
—Chad Gann, a wildlife officer from Hawkins County
—Della Sawyers, in TWRA's Nashville office
Sources said Hicks threatened others as well, but the calls weren't well-documented, so they were not included in the indictment.
Hicks was ultimately indicted on 13 counts. In the plea agreement however, he pleaded guilty to a single count. Hicks' attorney originally filed a notice of insanity defense; however, he was found competent and was scheduled to go to trial before making the plea deal.
NYCOA Webmaster's Note: This story brings back old memories for me. Early in my career, I had a similar experience with an individual making threatening phone calls to my home. A local man, who lived not far from me, called over an extended period of time threatening to kill me and to burn my house down. After a lengthy investigation and many long hours of surveillance on telephone booths where some of the calls had been traced to, Eugene Palmer was arrested by us in the process of making his last call to my home. Palmer was convicted of the charges we placed against him and paid a fine in court. Then I initiated a civil lawsuit against him and relieved him of some of his change for making phone calls.
The most interesting and chilling twist to this old story is that Eugene Palmer was, apparently, quite capable of murder. Last year, Eugene Palmer shot and killed his daughter-in-law with a shotgun. He disappeared into Harriman State Park, an area that I used to patrol, and has not been seen since. It is widely believed that he is no longer alive and that his body will be discovered in the park at some point. It is a shame that Palmer did not receive a more significant penalty for his actions back in 1985. Perhaps his daughter-in-law might not have died so tragically had he been sent to jail for a time. Significant crimes should carry significant consequences.
Here is an article that appeared in September 2012 regarding the Eugene Palmer manhunt:
The Haverstraw man suspected of killing his daughter-in-law threatened to kill a state Department of Environmental Conservation officer in 1985, The Journal News has learned.
Eugene K. Palmer, then a 46-year-old truck driver living in Stony Point, was charged with second-degree aggravated harassment, a misdemeanor, after he made repeated "life-threatening" calls to victim Kenneth Didion's home over a period of months, the Rockland Journal-News, a forerunner of today's newspaper, reported. The arrest ended a DEC investigation into numerous phone threats against Didion's life and home that the officer had received since December 1984.
In April 1986, Palmer pleaded guilty, and the next month he was sentenced to one year of probation and fined $750. He was ordered to avoid any contact with Didion for a year or face additional charges. No motive for the threats was ever established.
A police manhunt continues for Palmer, 73, who is believed to have shot and killed Tammy Palmer early Monday at the home she shared with Eugene Palmer's son and their two children. John Palmer recently had been banned from the home after he was accused of beating his wife. Eugene Palmer is accused of responding with verbal threats and ultimately killing Tammy shortly after her children left for school.
Though police strongly believe Palmer is hiding out in the Harriman State Park mountains, investigators also checked an Adirondacks hunting lodge the woodsman has rented in the past. State police spoke with the owner, but he's had no contact with Palmer since last year during a hunting trip in Seneca, Haverstraw police Chief Charles Miller said Friday. Palmer abandoned his green pickup truck in Harriman State Park, so he has no obvious means of transportation upstate unless someone gives him a ride, Miller said.
"He's rented a cabin up there, and the state police tracked down the owner," Miller said. "They've been checking the house. He was up there last year. There's nothing that leads me to believe he's headed that way. We don't believe he's left the area."
NYSDEC'S SUCCESSFUL INVESTIGATION INTO ILLEGAL ELEPHANT IVORY TRADE LEADS TO GUILTY PLEA FOR MANHATTAN-BASED DEALER
Manhattan-based jewelry wholesaler Stonex Corp. pled guilty this week to one count of felony-level Illegal Commercialization of Wildlife, New York State Department of Environmental Conservation Commissioner Joe Martens announced today.  The company owner, Shashikumar Krishnaswamy, pled guilty to one count of misdemeanor-level Illegal Commercialization of Wildlife.  As part of the plea settlement, Krishnaswamy will forfeit more than 70 pounds of ivory pieces that were seized from him, an estimated retail value of more than $30,000.  In addition, he and the corporation will donate $10,000 to the Wildlife Conservation Society for use in elephant conservation programs worldwide.
"As this case and others show, New York City is still a major market in the country for the illegal wildlife trade," said DEC Commissioner Martens.  "New York has zero tolerance for those who would profit from the sale of endangered and threatened species. Many species around the world are teetering on the brink of extinction due to poaching to supply the illegal wildlife trade, especially elephants. DEC is committed to stopping the illegal ivory trade in New York.  I would like to thank our partners on this joint investigation; the Office of Manhattan District Attorney Cyrus Vance and U.S. Fish and Wildlife Service."
Two other Diamond District-based companies, Raja Jewels, Inc. and New York Jewelry Mart Corp., pled guilty last year for their roles in the illegal sale of elephant ivory.  The Raja Jewels case resulted in the largest seizure of elephant ivory for a state case in New York's history.  Together, the amount of ivory seized from the three Diamond District businesses amounted to nearly a ton, with an estimated retail value of more than $2 million.
Under the New York State Environmental Conservation Law, it is illegal for anyone to sell or possess with intent to sell any articles made from endangered or threatened species of wildlife, such as the elephant, unless the seller has been granted a license to do so from DEC.  Only then, licensees may sell articles, such as ivory, if they possessed the items prior to the species being listed under the U.S. Endangered Species Act (ESA).  All elephants are protected as either endangered or threatened species, and the sale of any articles made from an elephant is prohibited without a license from the DEC.
             In 1976, the Asian elephant was listed as an endangered species under the ESA, and in 1978, the African elephant was listed. Tens of thousands of elephants are being killed each year for their tusks to supply the illegal ivory trade.  Rates of poaching in many areas are the worst that they have been since the international ban on the ivory trade took effect in 1989.
This case was investigated by Lt. John Fitzpatrick DEC's Bureau of Environmental Crimes Investigation, with assistance from U.S. Fish and Wildlife Service Special Agents Paul Chapelle and Kathryn McCabe, as well as DEC Officers Eric Dowling and Nathan Favreau.  The case was prosecuted by ADA Julieta Lozano of the Manhattan DA's Major Economic Crimes Bureau.
Anonymous Tip Leads to Convictions for Numerous Wildlife Crimes
An anonymous letter received in January 2012 alerted game wardens that a Cheyenne man imported feral pigs from Texas to Wyoming and also killed a mule deer buck out of season. These tips directly led to the recent convictions of Troy T. Hall for those, and several other wildlife violations.
The investigation discovered that in 2004 Hall intentionally poached a buck mule deer out of season with no license while trespassing and falsified an Interstate Game Tag to cover the crime, illegally imported live feral pigs in 2006, guided several hunters without a license in 2010, and as a taxidermist failed to attach an Interstate Game Tag to a bighorn sheep mount.
For the variety of violations, Hall, 43, was assessed $16,080 in fines and restitution, was placed on 18 months supervised probation, was placed on 30 months of concurrent unsupervised probation, lost his hunting privileges for six years and forfeited the mount of his illegally taken deer and other penalties.
Read all the details of this complicated and successful investigation in this article posted on County 10, a web based news service serving Fremont County, Wyoming and surrounding communities.
Washington State Wildlife Officers Recover 10 Trophy Bucks, Arrests Pending
As reported by By K.C. Mehaffey of The Wenatchee World, Washington State Department of Fish and Wildlife officers on Friday seized 9 trophy deer heads after searching four homes in Okanogan County. A 10th head was recovered last month, authorities said. The evidence will be key to solving the case of the headless bucks, reported by residents from Malott to Okanogan, in Northeast Washington, who've been finding carcasses of whitetail and mule deer with the heads cut off and the bodies left to rot, said Wildlife Sgt. Jim Brown.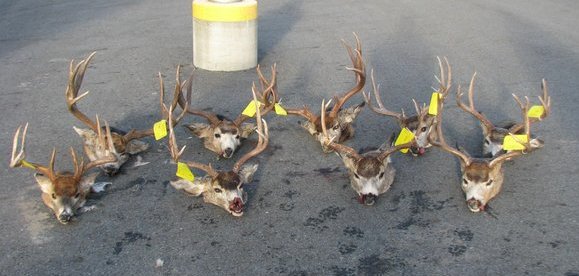 "This was a poaching ring, and spree killing," said Brown, Wildlife's supervisor in Okanogan County. "All of the suspects in this case know each other. They're interrelated, and doing this together, or as part of a common scheme." The hunters were using spotlights at night to hunt and kill them, he said.
No arrests for illegal hunting were made Friday, but officers have several suspects, he said. One of them — a 24-year-old Omak man — was arrested on suspicion of driving with a suspended license, he said. Evidence is still being processed before he can be arrested for poaching, Brown added.
He said officers expect to arrest more people in the next few weeks, after reviewing all the evidence and conducting more interviews.
"They just killed them to kill them," he said. "Their heads were stacked like cordwood."
Wildlife officers have been investigating the case since November, and in January, went to the public to ask for help. A reward offered for information leading to the arrest and conviction of a suspect increased to $2,500 in early February.
Brown said officers used information from several tips to piece together their case. They had enough evidence to seek search warrants for four properties on Friday, he said. Six Wildlife officers in Okanogan County received help from Okanogan County Sheriff's deputies, Colville Tribal Police officers, and Wildlife officers from Chelan and Grant counties.
Brown said all of the bucks are considered trophies — the smallest had four points on each side and the largest had five on one side and six on the other, with a 29-inch spread. "That's a lot of big bucks," he said. If convicted, the poachers will be required to pay a $6,000 fine per buck — because they were trophies — in addition to other court fees and fine.
Brown said local sportsmen who saw officers processing the evidence in a parking lot on Friday stopped to see what was happening. "They were sick to their stomachs," he said, adding, "It's the theft of an opportunity from a legitimate hunter. These deer were going to be that big or bigger in a year. And now, they're not in the gene pool. They're never going to be involved in breeding again."
Officers also seized a 2004 Dodge pickup truck believed to be used to poach some of the deer.
Illinois Man Assessed $10,000.00 in Penalties for Illegal Deer
From The Kankakee Daily Journal: A Kankakee man received $10,000 worth of fines for the illegal killing of a trophy deer in 2011.
On Feb. 15, Weldon "Jesse" Bean pleaded guilty to illegally hunting without permission, illegally taking a white-tailed buck with a rifle, illegally hunting within 300 yards of a dwelling, illegal possession of a white-tailed deer, failure to immediately tag the deer upon kill, illegal transportation of an uncased bow on an ATV and invalid archery deer permit. Each charge carried a fine of $692 for a total of $4,774.
Bean has to pay another $5,226 for the value of the deer. The deer hide, meat and antlers along with Bean's equipment was awarded to District 3 of the Illinois Department of Natural Resources, based in Will County.
Newfoundland and Labrador Wildlife Officer Loses His Life During Patrol
On February 21st, Fish & Wildlife Officer Howard Lavers drowned after his snowmobile broke through the ice on Eastern Bluey Pond, near Blue Mountain. He and two other officers were patrolling the area when the ice broke as they rode across the pond. All three officers fell into the water. The other two officers were able to get back onto the ice. They attempted to rescue Officer Lavers but were not able to pull him from the water.
An RCMP dive team recovered Officer Lavers' body the following day.
Wildlife enforcement officers across the continent and the globe face many hazards while carrying out their duties. Our sympathies and prayers are with Officer Lavers' family, friends and colleagues during this difficult time.
Retired NYS Warden Shares His Career Experiences
Dick Lang has been working on a book that details his experiences as a Conservation Officer. The book was just recently published and contains considerable insight into his long and distinguished career. Dick spent 34 years enforcing the laws that protect the fish, game and natural resources of New York State and I am sure you will enjoy reading about some of his adventures in his new book. More details and information on how to purchase the book can be found in this article from The Buffalo News by outdoor writer, Will Elliot.
Death Penalty for Pennsylvania Conservation Officer's Killer
GETTYSBURG – After nearly four hours of deliberating, an Adams County jury on Thursday night sentenced a 29-year-old man to death by lethal injection for the killing of a state wildlife conservation officer.
Christopher L. Johnson of Carroll Valley was convicted earlier in the week of shooting and killing Wildlife Conservation Officer David L. Grove after Grove pulled him over for poaching deer nearly two years ago. Read about the case in this article from the Hanover Evening Sun.
Both men reportedly exchanged gunfire as investigators found 25 shell casings at the scene. Autopsy results showed Grove was killed by a shot to the neck. According to an affidavit of probable cause, Johnson told a state trooper he shot Grove because he "didn't want to go back to prison." Johnson was not allowed to possess a firearm due to a previous felony conviction. He will face charges of murder of the first and third degree, prohibited possession of a firearm, carrying a firearm without a license, possessing an instrument of crime, and several game violations.
Ivory Poachers Brought Down in Manhattan
Manhattan District Attorney Cyrus P. Vance announced the guilty pleas of two ivory dealers and their businesses for selling and offering for sale illegal elephant ivory with a retail value of more than two million dollars.
The charges are the result of a collaboration between the Manhattan District Attorney's Office, the New York State Department of Environmental Conservation (DEC), and the United States Fish and Wildlife Service (USF&W). In total, the investigation has resulted in the seizure of close to one ton of illegal ivory articles and items.
For the details of this operation and its success, read the Department of Environmental Conservation Press Release here….
Police Officer Pleads Guilty to Game Law Violations in Wisconsin
As protectors of our fish and wildlife, this is a circumstance that we sometimes encounter during our careers. It is a very distressing circumstance to encounter a fellow law enforcement officer whose philosophy appears to be that only some laws are worthy of enforcement. It places us in a difficult situation because we respect people who put their lives on the line to serve and protect while, at the same time, we as Conservation Officers are sworn to protect wildlife as well as the public we serve. Anyone can make a mistake when hunting or fishing, and those individuals deserve consideration whether they are cops, corrections officers or civilians. However, anyone who deliberately violates game laws deserves only arrest and prosecution regardless of their occupation or position.
Here is a sad story from the La Crosse Tribune of two police officers who were arrested for violating federal game laws in Wisconsin:
MADISON — A La Crosse police officer has resigned after pleading guilty to federal hunting charges. And his accomplice, another officer, is considering the same.
Faling Yang, 42, was fined $5,000 Wednesday in federal court and had his hunting and guiding privileges suspended two years for helping kill and transport 87 ducks in 2009. He and officer Corrie Korn operated CKY Outfitters, the target of a two-year investigation by the U.S. Fish and Wildlife Service. Agents went undercover to catch the men hunting ducks illegally in the Upper Mississippi River National Wildlife and Fish Refuge.
Federal Magistrate Stephen Crocker called the men's conduct "the most egregious Lacey Act case in this office during my nine years here, and it was done by two people sworn to uphold the law."
The Lacey Act governs the protection of plants and wildlife.  While both men faced up to six months in jail after pleading guilty in March, Crocker factored Yang's resignation from the department in the sentence he imposed.
"He fell on his sword and recognized the dishonor he brought to the badge and his department, and that ameliorates a lot of the stain he brought not to just the department but to his community," Crocker said.
The La Crosse Police Department had no comment on the case Thursday.
Yang is a former Hmong refugee. His attorney, Bruce Rosen, said Yang "loved his job," was a gang intervention unit leader and a role model not only for the Hmong community but to all immigrants. Yang has received dozens of accolades from the department and resigned against his attorney's advice, Rosen said.
Neither Yang nor Korn have had disciplinary problems at work, Rosen said. Korn remains on administrative leave. His attorney, James Koby, asked for a continuance so his client could consider also resigning from the force.
"Before, he considered the impact sentencing would have on his employment," Koby said. "After Faling's sentence, my client needs to consider the impact his employment status would have on his sentence."
Crocker emphasized that Yang's status as police officer had a negative impact on the sentence he would receive.
"Do you get a break if you're a cop? No, you're held to a higher standard," the judge said.
The sentence was a message to all hunters that bag limits are established for a purpose, he said. And if violated, punishment will follow.
U.S. Supreme Court Upholds Game Warden Powers of Search and Seizure in California
From the Sacramento Bee:
The claim of an unconstitutional search by a San Diego fisherman who got caught with an out-of-season lobster was rebuffed Monday by the U.S. Supreme Court. In denying review, the high court let stand a California Supreme Court opinion in June that people who hunt and fish have fewer of the privacy rights guaranteed by the U.S. Constitution's Fourth Amendment. The state high court granted game wardens the authority to stop, question and search citizens without a warrant or even without probable cause to believe a law has been broken. All the warden needs, the California court ruled, is knowledge that a person is or has been fishing or hunting. The need to protect wildlife for future generations outweighs the comparatively minor intrusion on a citizen's Fourth Amendment protection against unreasonable search and seizure, wrote state Supreme Court Chief Justice Tani Cantil-Sakauye. The opinion overturned rulings by two lower courts.
On a mid-August night in 2007, Warden Erik Fleet, using a telescope from 200 yards away, was watching people, including Bouhn Maikhio, fishing off the Ocean Beach pier in San Diego. When Maikhio left, Fleet stopped his vehicle about three blocks from the pier. Maikhio denied having a catch, but Fleet found a California spiny lobster in a bag in the back seat. Fleet later testified he had no reason to suspect a violation of the law when he made the stop. Maikhio was charged with possessing the lobster out of season and failing to exhibit it upon demand, both misdemeanors.
Represented by public defenders, he moved to suppress evidence. The National Rifle Association joined his lawyers in seeking review at the highest court in the land. The revived prosecution will now return to San Diego Superior Court for further proceedings.
K-9s Meet at NY Sportsman Show
A meeting of K9s from two of the Northeast States took place recently in Rockland County, New York.
Maine State Game Warden Alan Curtis and his K9 partner, Cruiser, and New York State Environmental Conservation Officer Scott Steingart and his K9 partner, Buck, educated and entertained thousands of attendees at the World Fishing and Outdoor Expo held in Suffern, New York recently.
California Judge Takes Poaching Seriously and Hands Down Significant Penalties to Three Convicted Violators

.

Three Stockton men face prison and jail terms, heavy fines, a forfeited vehicle and destroyed firearms for conspiring to kill and sell deer for profit.

In June 2011, after a three week investigation, wardens with the California Department of Fish and Game (DFG) arrested Thongseuth Khounchanh, 58; Ti Sila, 51; and Bounleuna Sysenglath, 59; all from Stockton, as they returned from an all-night poaching trip in El Dorado County. El Dorado County Deputy District Attorney Michael Pizzuti prosecuted the case and presented the court with evidence regarding the egregious nature of their poaching crimes, along with the extensive costs associated with the investigation.

The investigation was prompted by an anonymous tip received in May 2011, when a caller to the DFG CalTIP line reported suspected deer poaching activity associated with Khounchanh, Sila and Sysenglath. Wardens conducted an extensive investigation that showed the suspects making multiple poaching trips per week, including killing everything from bucks to pregnant does. The poachers sold the deer meat as fast as they could get it to an established network of buyers.

On Feb. 22, 2012, visiting Placer County Judge Hon. Angus Saint-Evans found one defendant guilty of poaching-related felonies and two of poaching-related misdemeanors.

Thongseuth Khounchanh was convicted of felony conspiracy to possess deer for sale, in addition to being a convicted felon in possession of a firearm. He was sentenced to 16 months in state prison and was ordered by the court to forfeit his vehicle. Ti Sila and Bounleuna Sysenglath were each convicted of three misdemeanor deer poaching-related offenses and were sentenced to 120 days in county jail, fines and penalties totaling $13,500 and three years formal supervised probation. All weapons used in the poaching crimes were forfeited and will be destroyed.

"It took intensive effort from wardens to stop this poaching operation," said Assistant Chief Tony Warrington of DFG's Law Enforcement Division. "Wardens from all over the Sacramento and San Joaquin Valley, including wardens from our Special Operations Unit, Delta-Bay Enhanced Enforcement Program, warden-pilots from the air services unit and the keen noses of our warden K-9s, collaborated to put this case together."

To recoup costs from the intensive investigation, Judge Saint-Evans ordered restitution from the three defendants in the amount of $100,270.04.

Selling any deer meat in California, whether it was taken legally under a recreational hunting license or killed illegally, is a crime.
Kansas Man is Arrested for Illegally Killing a Deer That Would Have Broken the State Record
From the Wichita Eagle 2/10/12: Charges have been filed against a Topeka man accused of poaching a deer that could have broken a state record that has stood for more than 35 years, according to the Kansas Department of Wildlife, Parks and Tourism.
David Kent was charged in Osage County Court in connection with the Nov. 11 shooting of a 14-point whitetail buck, Wildlife and Parks information officer Mike Miller said Thursday. Charges include hunting with an artificial light, hunting during a closed season, illegal hunting from a vehicle and the use of an illegal caliber for deer hunting.
The buck has been unofficially scored at 198 7/8 inches of antler on the Boone & Crockett system. The deer was measured by an official scorer, but hadn't met the requirement for a waiting period of at least 60 days after the kill to make the score official. The state record for a typical whitetail deer shot with a gun is 198 2/8 by Dennis Finger in Nemaha County in 1974.
Charges against Kent were filed Feb. 1, and Kent was served court documents on Monday, Miller said. Kent brought the antlers to public attention at the well-attended Monster Buck Classic last month in Topeka, where he said he had killed the deer in northeast Kansas. Photography surfaced at the show placing the buck alive, in Osage County, earlier in the fall. Wildlife agents compared the photo to the antlers and determined it was the same deer.
Kent was taken into custody and the antlers confiscated shortly after he was recognized as having brought the largest typical antlers to the event. He confessed to shooting the deer illegally, a law enforcement source said.
This is the third Kansas buck with antlers that could qualify as a state record that isn't officially recognized. A typical buck that scored 199 7/8 was shot by a rifle hunter in 1999. It was confiscated when it was learned the non-resident hunter used a relative's resident permit to tag the animal.
A typical mule deer scoring about 207 typical points is on display at Cabela's in Kansas City, Kan. It's about 5 inches larger than the state record, but Wildlife and Parks won't certify it as the state record because there's no record of the person listed as the hunter having a permit for the listed year. Miller said the department is not making any accusations of wrongdoing in the shooting of the deer.
Illegal Venison Buffet Foiled by New York State Conservation Police
On January 27th, a complaint came in of shots fired and possible deer jacking on Diamond Road in the Town of Wawarsing, Ulster County.  Environmental Conservation Police Officer Rick Wood responded along with NYC DEP Police Sgt Wood, and two suspects were arrested:  Salvatore Regalbuto, 42 and  Filadelfio Cassara,33, both of Bronx, NY.
One doe deer was observed in the bed of the truck, and a loaded bolt action Marlin .22 mag was recovered inside of the vehicle along with two spotlights and four spent shell casings.  A search of the surrounding area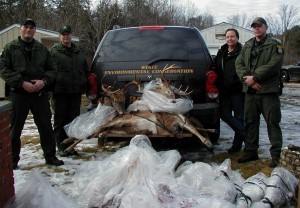 revealed a second deer, approximately forty yards in the woods, from the vehicle.   Next to the loaded firearm in the vehicle, were a large number of flyers advertising a venison dinner in the New York City area.  The firearm, magazine, ammunition and spotlights were seized for forfeiture along with the flyers, and the deer were seized for evidence.
The suspects were taken in front of Town Justice Babcock in the Town of Rochester for arraignment.  Both men were committed to the Ulster County Jail on $1,000.00 cash bail or $2,000.00 bond.  A search warrant was issued for the defendant's summer home for evidence of illegal commercialization of deer.  ECOs Wood, Buckley, DEC Police Inv. Hartcher, and Lt. Meg Filmer executed the search warrant and seized further evidence consisting of ten whitetail deer front quarters and ten hind quarters.
On 02/03/12, Lt. D. Lindsley and ECO Rick Wood met the defendants and their attorneys at the Town of Warwarsing court.  A settlement of $4,000 each totaling $8,000, was agreed to and paid.  The deer will be donated to the Hunters Helping the Hungry Program in Dutchess County.  The firearm and spotlights were forfeited to the State, and both men still face a revocation of their hunting licenses.