By Retired Lt. Ken Didion
Across the state, Environmental Conservation Officers enjoy very close ties to other law enforcement agencies. Whether it be the State Police, Park Police, Sheriff's Office or Municipal Police Department, many ECOs have relatives who are members of these agencies. Some of our officers worked in other enforcement agencies before becoming Conservation Officers. And, in the field, ECOs inevitably develop good working relationships with one or more of these other agencies.
Regardless of whether they are working in a rural or urban setting, police officers depend on each other for support, especially in dangerous situations. When the proverbial "crap hits the fan", it really doesn't matter what color the uniform is being worn by the police officer responding to assist. Throughout my career as an ECO, I have had the great pleasure of working closely with many officers from many different enforcement agencies. In my first patrol area, in Rockland County, I had the opportunity to interact with numerous enforcement agencies. However, I lived in the Town of Stony Point in the northern portion of the county and developed a very close relationship with the officers of the Stony Point Police Department. I worked closely with them on many occasions and relied on them for assistance quite often. Because I worked for a State agency and they were a municipal agency, radio communication was difficult as we were using two different systems. The Stony Point Police Chief at that time, Steve Scurti, solved that problem by having one of their police radios installed in my patrol car. This proved advantageous to me on many occasions, and I was able to assist their officers with a quick response when they were in need of backup.
The area surrounding Cranberry Lake, where I spent the bulk of my career, is very remote and, consequently, saw very little law enforcement presence on a regular basis. There was generally one State Trooper on duty working out of the barracks in Oswegatchie, about 18 miles west of Cranberry Lake. Trooper Mike Dolan worked out of that station and lived in Cranberry Lake. Mike and I both belonged to the Cranberry Lake Fire Department, and became close friends. We worked together on many occasions and often found ourselves responding to provide back up for one another.
I spent the latter part of my career as a supervisor of a zone that included Wyoming and Allegany Counties. The ECOs that worked in those counties and I enjoyed the same kind of close working relationships with the local law enforcement agencies. We worked very closely with the Sheriff's Departments and State Police in both of those counties. In Wyoming County, the Sheriff arranged a monthly luncheon meeting for all the agencies in the county. We enjoyed a fairly regular attendance at those meetings that always included representatives of most of the law enforcement agencies in the county and the District Attorney's office. The meeting was held at a different restaurant within the county each month. Not only did we get a good briefing on crime developments, but we developed close relationships within the enforcement community.
The Sheriff in Allegany County would also conduct regular meetings of that county's enforcement agencies. As in Wyoming County, this really contributed to very close relationships across Allegany County. In a tribute to that close working relationship, former Allegany County Sheriff Randy Belmont conceived and implemented a law enforcement memorial for the new Public Safety Building that memorialized the officers who had given their lives in the line of duty and acknowledged the various agencies dedicated to enforcing the law in Allegany County.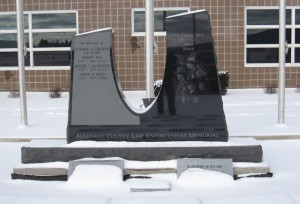 The memorial currently honors four officers who gave their lives in the line of duty. The most recent entry is for Allegany County Sheriff's Deputy Derek Ward who died in an on-duty vehicle accident in the summer of 2004. Derek was the son of Dan and DeDe Ward of Friendship. Dan Ward is a retired Environmental Conservation Officer who patrolled Allegany County for decades.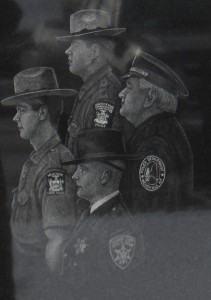 The closeup of the engraving on the right side of the memorial depicts the officers who protect and serve in Allegany County. In the forefront is an Allegany County Deputy Sheriff. On the left is a New York State Trooper. On the right is a Wellsville Village Police Officer who represents all of the Village and Town Police Officers in the county. The officer in the background is a New York State Environmental Conservation Officer. This image says it all.