Liza-J grew up on a farm in rural western New York State. She enjoyed farm work, construction projects, horse racing, hunting, horse logging, trapping, and competitive shooting. As the eldest of five home-schooled adventuresome siblings running wild about the farm, she developed leadership skills under fire.
After earning an MS in Forestry from the School of Environmental Science and Forestry at Syracuse, N.Y.(ESF), Liza-J did a short stint as a Forester with the NYS DEC, before becoming a third generation New York State Environmental Conservation Officer (ECO) in 2007, following in the footsteps of her Father and Grandfather. While at ESF, and Finger Lakes Community College before that, she captained the Timber Sports Teams to Several state and national titles, and was personally undefeated in her signature event, the pole climb.
She has and continues to successfully compete in a number of shooting disciplines, including Police Pistol, IDPA, high power rifle, and sporting clays. She regularly competes in high power rifle at the National Matches at Camp Perry, Ohio, and has shot in the National Police Pistol Championships at Albuquerque, N.M.  As an ECO assigned to eastern Long Island, Liza developed a small bore rifle program for kids, introducing many youngsters to the joys and challenges of marksmanship. She enjoys introducing her adult friends to various hunting pursuits and enthusiastically participates in mentored youth hunting programs.
In 2012 Liza J studied under her younger brother Gallager, and earned her private pilot certificate in the State of Alaska. She owns and flies a 1946 Taylorcraft, AKA "Ducky".
Liza J was commissioned as a Lieutenant in 2013, and continues to supervise ECOs within the Division of Law Enforcement.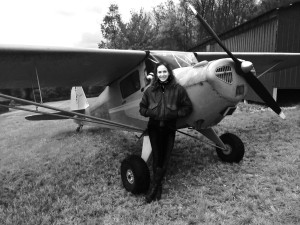 In 2014 she was elected President of the New York State Conservation Officers Association.
I'm so proud to be part of the NYS Environmental Conservation Police, and so lucky to work with the men and women on this job. I believe that we, along with our counterparts in other states and the Federal government, provide a service to the public and to future generations as we ensure the protection and wise use of our natural resources and environment. In my experience traveling to other countries, I have yet to see another place that does as good of a job as we do. Not only is our mission truly meaningful, it is also pure fun.

NYCOA affords me more opportunities to spend time with the great guys and gals on this job, to share stories and ideas about work, and to know more about what's going on across the state. It also provides resources to our members as they go above and beyond, organizing educational youth and women's hunts and workshops, fishing and hunting opportunities for our veterans, and participate in wounded warrior, special Olympics, and many more worthy and charitable endeavors. It also provides a network of support for our members in times of need.

I'm grateful for the opportunity to help run this terrific organization and for the excellent and dedicated people who I have to work with, both to keep NYCOA strong and to keep up the work of the Thin Green Line.

-Lt. Liza-J Bobseine