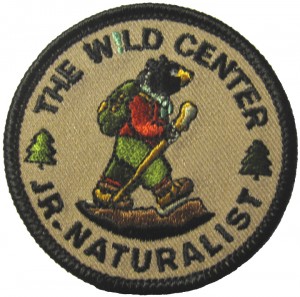 At a meeting with staff members of the Wildcenter, representatives of the New York Conservation Officers Association presented a donation of $500 to support the museum's Junior Naturalist Program. The donation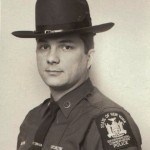 was made in memory of New York State Environmental Conservation Officer Douglas C. Kerr.
The Junior Naturalist Program is designed to encourage youngsters from ages three through twelve to become more knowledgeable about nature and the environment. This is accomplished by providing young visitors with an activity booklet that encourages them to more intimately explore the interactive exhibits and other areas of the museum. The booklets provide an opportunity for the youngster to answer general questions and document their thoughts and impressions of specific exhibits and areas of the museum. After completing the activities that take them
through the indoor exhibits and outdoor campus, each child receives a patch that designates them as a "Junior Naturalist".
It is fitting that this donation was made in memory of ECO Doug Kerr. Doug was one of the officers who strongly advocated our Association's support for the Wildcenter when it was in its development stages and was seeking financial backing. It is also fitting that our most recent donation be earmarked to support the Junior Naturalist Program as, throughout his career, Doug was always passionate about youth education in the beauty and value of our natural resources.
Doug joined the DEC's Division of Law Enforcement as an Environmental Conservation Officer in 1983. The first five years of his career was spent on Long Island where he developed his expertise in marine fisheries enforcement and protection of tidal and freshwater wetlands. In 1988, Doug transferred to Region 6 where he worked diligently enforcing more traditional hunting and fishing regulations in the southern Adirondacks and the Tug Hill area of Lewis County. His experience and passion for protecting the environment, however, kept him active in successfully investigating and prosecuting significant environmental crimes. While he developed a reputation as one of the best ECOs in the north country, Doug's passion as an advocate for preserving our natural resources and outdoor heritage was not confined to his work hours alone.
Doug held memberships, and was active in many organizations. He was a life member of the Professional Bowhunters Society and served on the PBS council. He was also a charter member of the New York Bowhunters. In fact, Doug contributed the first hundred dollars to start that organization in his home state of New York. He also served on the board for the New York Bowhunters and was the chairman of their legislative committee. In addition to the PBS and NYB, Doug was a member of New Jersey United Bowhunters, American Bowhunters Committee, United Bowhunters of Rhode Island, the National Wild Turkey Federation, The Ruffed Grouse Society, the Rocky Mountain Elk Foundation, the NRA, the Appalachian Mountain Club, Wilderness Society, Sierra Club, North American Wildlife Enforcement Officers Association, Nature Conservancy, Foundation for North American Wild Sheep, Theodore Roosevelt Conservation Alliance, Coral Reef Alliance, America Rivers, American Canoe Association, Florida Conservation Association, Atlantic Salmon Federation, Montana Trout Foundation, OCEANA, Center for Marine Conservation, Coastal Conservation Association, Alaska Fish and Wildlife Safeguard, Waterfowl USA, Ducks Unlimited, Trout unlimited, Theodore Gordon Flyfishers, and Catskill Fly Fishing Center and Museum. Doug loved to make all of his own archery equipment as well as flies for fly fishing. Doug loved tying flies so much that he was teaching fly tying at two schools at the time of his passing.
It was Doug who came up with the concept of the New York Conservation Officers Association in 1984, and through his hard work and the support of a handful of fellow officers, the concept became a reality when the Association was created in 1986. "Dougy", as most of us called him, will always be remembered as our close friend and source of inspiration. We are hopeful that our support of the Junior Naturalist Program in Doug's name will inspire many youngsters to appreciate nature as much as he did.